Yay, my first Sunday Social of 2014! This has by far been my most favorite thing to do in blogging. This is the sure-fire way to find some amazing blogs of all kinds. I've seen fashion blogs, military themed, mom, just for fun...pretty much everything! This linky brings together all sorts. This weeks is a great time to jump in if you've never done it before because its a "Get to Know You" theme this week. Glad you're here so jump on it!
1. What is the name of your blog and how long have you been blogging?
I've been blogging for about 4 years now!
2. Why do you blog?
Sometimes I think the answer to that is always changing. It started out as something fun to try. I had a couple friends who had started doing it when they moved away from home. Then I started reviewing products and it just kinda went from there. It was never really a venting place, or a talking too much about my life place. I kind of struggled with the balance of blogging and OPSEC/PERSEC. This year I really do want to talk more about personal stuff...but I hate talking about me!
So really its become a place where I can talk about cool products, neat places we go here in the DC area, and topics that pertain to the military.
I'm excited for what this year has to hold.
3. What is the first blog you ever followed?
Gosh its all kind of blur (other then those family/friend ones I mentioned before), but there are a handful that stand out as the first ones that I faithfully followed. Surprisingly enough they weren't military blogs. I had no idea about the military blogging world until I'd been blogging for a little bit.
This is Staci's blog, and the first military blog I followed, although she's so much more. We've become friends now which is amazing and i"m hoping eventually we get stationed near each other. She's a fellow Air Force Spouse. She actually made my first blog button! I made a hat for her hubby when I was testing some of my hats for uniforms. she's super crafty (hence the name), she sings and takes pictures. Yeah, she's pretty awesome (love ya girl!!!)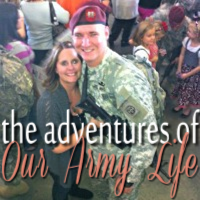 This is another military-themed blog and one that I've been following the longest after Staci's. She has a heart of gold, the sweetest ever, and one of my faithful readers and commenters. Whenever I'm feeling down, this girl always comes to my rescue, whether she knows it or not. She is an inspiration to me as a milspouse, a runner and just all around person. I'm really really hoping they make their way out to my neck of the woods!!
If I had to pick one this might be the first blog I actually followed followed. This is Kim Rosa's cloth diaper blog. She is one of the people I credit with me cloth diapering. I've posted before that I fully credit my friend Holly, but Kim's blog was there for me. I've never had the chance to meet her, but she is on my blog meeting, star struck, bucket list :) Thanks KIM!
This one also sticks out to me as one I've followed for a long time now too. Great reviews, like amazing reviews! I've definitely purchased products after reading her reviews.
4. What is your favorite post you wrote in 2013?
That is really hard. When I was writing my
review post
of my most popular ones of the year I saw that many of the most popular were my favorite! I had a lot of fun writing a lot of them. My two favorite I narrowed it down to was my post about
Honor Flight
, and how the kids and I went out for Veteran's Day and welcomed a group of WWII Veterans to their memorial, here in DC. If you don't know about Honor Flight please check out my post and learn more about them. There is probably a group in your area. My other favorite post was "
The Forgotten MilSpouse
". It was a post for Military Spouse Appreciation Day in May. I wrote about some of the feelings I have about National Guard and Reserve spouses and how they are frequently forgotten in the big picture. Anyway, I really felt passionate about it.
5. What are your blogging goals for 2014?
For this year I think I would really love to grow my active readership more. Definitely want to keep growing and expanding my military features and support highlights. I have always felt it was important to do that, and since that is one of the main reasons I began blogging that is really important to me. Also, blogging more personal things is something I really want to try. I sort of talked about that at the beginning of the post, but there it is. I can't wait to see what the rest of you have to say about it! I"m sure you'll give me more inspiration!!
6. Top 3 Favorite Blogs to Follow?
I really hate questions like this! Do I have to answer? There are so many I feel like what I'm obsessed with changes every week! I have a whole tab of favorites, and I'll link to it right
here
. Plus, I also list about four or five at the bottom of my blog.