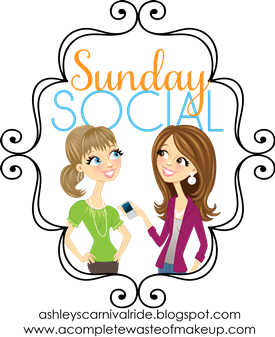 Happy Sunday Ya'll! It's been such a crazy December. I couldn't even begin to tell you about our luck. A new kind of sickness with someone in the family every week. Ridiculous! We aren't sick very often so I can only hope and assume this is our one and done type of thing. Make sure to come back on Thursday for my new blog hop co-hosted with my bloggy pal from
Mommy Only Has Two Hands
. Its a super fun hop where you can reminisce about what you were doing a year ago. Check out some of my previous posts
here
and
here
. If you're military I've got a new tab up top where I'll be scouring around to find some discounts and deals that might not be that well known. Next week I've also got two new giveaways coming up so check back. Now on to the fun! Can't wait to read what you all have on your Sunday Social fill-in.
1. What is the best New Years Eve you've ever had?
I would have to say it was the one right after we got engaged. We were engaged on Christmas Eve and we went to our first fancy, adult type New Year's Eve. I had this amazing nudish color dress, omg, it was so fabulous. One of my dearest friend's dad was a local DJ at the time and was the MCee at a New Year's Event and a super fab party in the fancy downtown Capitol Area. We had our own party up in a suite conference room and then after the dinner and event we got to go downstairs for dancing. Unfortunately this was way before inexpensive digital cameras and camera phones that were even remotely worth anything. I might have something somewhere but that would require me to hunt and scan. sooooo yeah....LOL.
2. Are you doing anything for NYE this year and if so what?
I'll be kicking it with some friends this year...really low key.
3. Name a book we should all read come January?
Man, that is a really hard question! I've read so many books this year during my challenge with Goodreads. Make sure to check out my list....so many good books.
I haven't read any like current best seller type books recently. If you haven't read the any of the Alex Cross books (PS: I hated the movie) pick up that series. I just started the Margaret Truman Series again. They are a series of mystery books taking place in DC; so Murder at the White House, Murder on Capitol Hill and so on and so on. If you haven't given in and read The Help, read that. If you're into romance books with a military twist I have a whole list of my newly found obsession....way better then that Fifty Shades of Grey nonsense. There is even a Love Inspired series, which is faith based romance..and true romance, not just sex.
4. What are your new years resolutions?
I'm actually pretty excited about this. I don't particularly want to call it a resolution, but I'm starting up my P90X again and am giving couch to 5k a go. I had been doing P90X up until and through (modified of course) my pregnancy with Phillip, then I had surgery and then we moved across country and this year has just been difficult. I have been doing it this year but not as consistently as I would like. So I have the IPhone app, a couple friends of mine are doing a group and my neighbor is like amazing runner chic and recently completed the Marine Corp Marathon...so I'm excited. But in order not to jinx it I'm officially saying its not an official resolution.
Well that's it for me for this week's link up! If you're just stopping by make sure to check out Ashley's blog! Love her :)