Thank freaking goodness its Friday people...although now that I think about it, it really doesn't matter to me at all because my Friday could be a Monday. But to all you out there that are experiencing a Friday on this Friday, hip hip hooray!! I'm participating in a new link up today that seems fun. Favorite Things Friday is a fun link-up hosted by the super fun Jenny, over at Sippy Cup Chronicles. I've been reading her blog for about a year now and she's loads of fun! If you don't want to join the link up make sure to stop by and check out her blog.
Here are my favorite things right now!
my purple jeans from Target! I can't believe I did it, but I did. I love it and I get compliments all the time.
I love this freaking show. I swear I want to be a southern bell, living in Atlanta and working at Sugerbakers. This show just reminds me of my mom and my grandmother.
My little month splurge. Monthly nail polish thanks to Jule
p. Last month I didn't get anything because frankly the colors were absolutely atrocious in all the categories...but my October Box was quite redeeming. The purple is from my first box and this black is from this months. I finally found a black nail polish I love.
seeing my hubby and daughter together like this. We were at my son's Tae Kwon Do class and they were playing Ami's first game of tic tac toe. I just snuck a quick pic. So adorable.
Now for Fitness Friday. I'm really trying with this whole weight loss, healthy living thing. I know I sound so flippant about it, but sometimes I just get tired. Every time I get in a groove something comes up. Maybe its just an excuse. But, I will say that I'm super proud of myself because I feel like's something is clicking. I've recently met some absolutely amazing bloggers. Military bloggers that someday I hope to meet in person. Madeline from
Food, Fitness and Family
and Maria from
Lift Love Life
. I stumbled across their blogs when I joined a group for military bloggers. We all have little ones about the same age and their post partum weight loss journey is something to be extremely admired. They are so encouraging to me now that I so wish that I had found their blogs earlier. I can't imagine what that inspiration would have done for me during the tough time after I had my son, had surgery and then moved across the US. That was really when I struggled with my motivation. It became "easy" for me to give up or get distracted. I don't know if they know how much they have meant to me in the last couple months, and the encouragement they've shown to me, but they do and they have.
So here's what I've been doing this week!
I've continued with my 4 miles a day walking and pushing the double stroller with my fifty lbs of children on it, and one way being almost entirely up hill! It's getting easier for me now so I know that's a good sign!! I've also been continuing with my Fembody routine, which you can read about
here
. I've also added a couple things to my routine which are purely experimental. On Maria's blog I learned about something called Intermittent Fasting (here's one of her
posts
about it). I'm trying to implement that into my life, as well as including a great detox tea (thanks Yogi). I'm trying to focus on getting more sleep, and cook more and budget my time. The more kids I have running around the more I've come to appreciate my lists and my paper planner. My goal is to be FitFluential someday like some of these amazing blogging ladies I've come across lately. In the evening, after the kids go to bed I've been doing another workout from my fitness app! If you haven't downloaded it you should! It really is great and if I need something new, or something quick, it helps. I'm able to get a great work out in no matter how much, or how little time I have. Look for Workout Trainer by Skimble in your App Store! There's a free version or a paid version!
next week I hope to bring you my exact workout and some of my favorite workouts from the app! My goal, after my mom leaves town, is to jump back on the P90X bandwagon!
Happy Friday Everyone!!! How are you being FitFluential?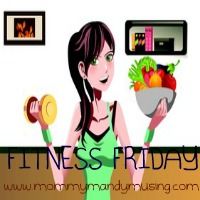 "/>