Monday is one of those crazy days.....the weekend is over, time to get back to life - hubbies usually are back at work and its back to your version on the grind. Well in the blogging world, there are two things that happen on Monday's for me....usually. Most of the time it's Military Monday's over at the most awesome blog
Marine Parent's
, with her awesome blog and shop.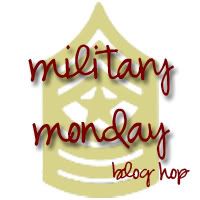 I was thinking of trying to not just link up with whatever random post I've got going on Monday, but really tackle a Military topic or issue. I get asked questions, fun and serious, all the time by friends, family, random people, so what better way to handle it then to really talk about it. So for the first topic, I thought something fun might be fitting, but a question I got asked recently, and get asked quite often - What's your favorite part about being in the military?
That's such a crazy question because it seems like it might be a simple one. The military has been such a huge part of my life, that's its hard to imagine not having it there. For the short time I thought it might not be I totally was freaking out. It actually kinda made me sad, more than scared, but you get my drift. Hubbs has been in for now for about ten years, two years longer then we've been married, and four years after we got together. I was fully a part of his decision and was 1000% on board. I grew up with a strong sense of Patriotism, and love and respect for the military - both real and romantic. I have a military in my family, and I even did my report on the most influential person in my life (in sixth grade) on my grandfather, who spent 20+ years in the Army and Army Guard. He served in Korea and even went to the Berlin Wall. My dad's dad was a top turret gunner in World War II. Various Aunts and Uncles have also been in the military. Then of course there's the romantic love of the military. Old war movies, total crushes on guys in uniform. I remember when I was like 13 or 14 I went on a tour of the Maritime Academy in Monterey, CA. That is pretty amazing and I was in total girlie heaven. Seems so silly now that I think about it. I am also the girl, that almost pulled over my car to snap a pic with an sailor in his Cracker Jack uniform in Petaluma one time. So funny. Watching Anchor's Away and all those fun movies was how I spent my time with girlfriends. Later on in life, and with my boyfriend (now hubby), I really developed that love of old time war stuff into a real love and knowledge of history.
Me and the hubby (15 and 17) in vintage clothing from the 40's
The heritage, the honor, the pride that's really what I love about being a part of the military. Seeing my husband in his uniform, its a feeling like nothing else, and I still feel this way after all this time, the times apart, the crappy stations, the ups and downs, moving. I would do anything, go anywhere and sacrifice pretty much anything for him. He does it for me all the time. His career is important to me. Don't mistake me, sometimes it absolutely sucks. Sometimes I don't like it, sometimes it's hard. Moving is hard - I am really missing my friends and family right now, adjusting to this most recent move. Despite all that, I still love it. I chose this life. Sure I'm not actually in the military, and this may be super lame and so not woman power but I would sacrifice my career, if that was the path I was on. It's hard for those that are on that path. Juggling all that. There are so many wonderful women out there fighting to make that sacrifice easier. I admire them and I hope it does get easier for those that are struggling with that. I've said this before to people, and I'll say it again. I may not wear the stripes....I haven't earned them...but they are as important to me as if I were wearing them. Now you might think that's super lame, but its how I operate in my head and make it through the tough times. Sure I complain, I get sad and frustrated. Just because I knew what I was getting into doesn't mean feeling any of those things isn't okay.
It may not be the way others do it, or how other feel, but for us it's more than a job. Its our life, its who we are. We are proud of it. I'm a Wife, a Mom and a Military Spouse. Sure, there are other things that define me and I know there are plenty of people out there that have talked about not letting this be your only definer. How can it not be a huge one? Sure it might not be the only one, but its a big one. And, not getting all wrapped up in what does or doesn't define who I am, or who we all are as Military Spouses is important. Be it Air Force, Marine, Army, Navy or Coast Guard - Active, Guard or Reserve, Man or Women, it doesn't matter. We're spouses and that defines us. Those other things don't matter. That's how we can draw near to one another. It's not necessarily about our job, what we like to read, our hobbies - all of those things being important...but first what binds us is our love and support of our military member. The instant friendships I've had, the connections - without even having to talk about what book we're reading, what our major is or even meeting in real life for that matter. These are all the things I love about the Military. And all of these people below!
Mil-Blogging Conference
My friend Lacey who I met close to 6 or 7 years ago in my very first military support forum. We're finally in the same time zone!!!
Silly google hang out time with military friends, one of which I've still not met in person but we're as close as if we had!
One of the awesome part of moving is being close to girls that I've known for a long time from support forums and are finally getting to meet! yay!!!
And to close out this day, some Mommy and Me Monday's action, with the always hilarious
Really, Are you Serious
. Mommy and Me Monday is all about getting in front of that camera with your kids. We don't usually get in front of the camera with our kids, but with the hubbs having been gone I had a chance to get into the frame to take a pic of all of us to send to him.
Hosted by Krystyn at Really, Are You Serious?
Thanks for stopping by!!