Well its finally Friday people, whatever that means, LOL! In our house it means its just another day. In fact it was a weird one for us. I'm pretty sure my husband is at work today and didn't get on a plane this morning, but it was like 4am when he woke me up. I distinctly remember me taking him to work this morning because he didn't rent a car because he was supposed to be on a plane...but then again, it could have been a tall, dark and handsome stranger for all I know. Such is the life of this military wife. But, thankfully there are things like blogs to keep me preoccupied. Oh, and my three little munchkins. And despite the fact that there is an extreme heat advisory, which make even going to the pool not an option (there is absolutely no shade around it, LLLAAAAAMMMMEEEE), I'm hoping that this is going to be the start of a fabulous weekend.
Now, onto the fun. The hops for today are thanks to some fabulous book review writers and some new hops I've not done but thought I would check it out!!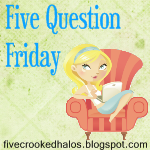 First off, as an ode to the book review blogs on the hop here's what I'm reading this week!
I've got an interesting group on my bookshelf this week! I'm continuing on my Alex Cross Series read. I really love this series. James Patterson is really pretty rockin. I love the Women's Murder Club series, but I got out of whack with them and have to start all over again. I'm on Number Thirteen, Double Cross, and so far its pretty good. I really liked the last one, Cross. It really delved into the past of Cross, which I really loved. There haven't been too many in the series I wasn't into, maybe two out of the thirteen. Not one was so horrible that I didn't want to read. The other book on my list this week is a book from Tyndale Publishing , entitled
"The Searchers," by Joseph Loconte
. It's proving to be an extremel interesting read, so be on the look out for the full review on that one.
The fun stuff this week is the Five Question Friday brought to you by Five Crooked Halos! This is my first time on this hop and it looks like lots of fun!
1.

What's your favorite childhood snack that you still eat as an adult?
Gosh, I don't know. I'm going to have to ask my mom on this one.
2. W
hat food will you not eat the low fat version of?
Well its not really a food, but soda, I just will not drink diet! No way! bleh. I will usually try the low-fat, low-carb, whatever low of lots of stuff. Most stff doesn't really taste all that different from the originial, or maybe I'm just not that picky. But the soda, just can't do it. LOL
3.
What's your favorite way to cool off during the summer?
Either pool or staying in my nice air conditioning!!
4. W
hat's your favorite summer read?
I usually try to read some Jane Austen every year, but I don't have a particular summer read. Right now I'm powering through the Alex Cross series, by James Patterson.
5. W
hat are you doing to stay cool in this awful heat?
This is my first summer living on the East Coast, and OMG!!!!! This whole heat index thing is killing me. By 8:00am today it was almost 90!! The heat index has today's high feeling like 115!! and its only June. This NorCal girl might not make it the rest of the summer. :)